Bruce Nalezny, pianist and composer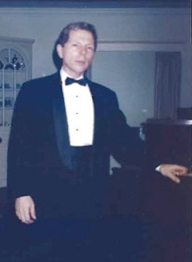 Founder and director of "Piano Gallery", Bruce Nalezny has many years of experience as both a professional musician and in retail piano sales. From 1984-1997 he was sales manager at the Piedmont Piano Company in Oakland, California. In 1997, he left that position to found his own company "Piano Gallery" and has had showrooms in several East Bay locations. In 2008 he decided to become a full time piano broker in order to connect people and pianos through the large network of piano technician/rebuilders and colleagues he established in over 25 years in the world of pianos. He continues to seek out suitable pianos for restoration by some of the Bay Area's leading craftsmen. Notable among these is Fred Allen, highly revered by many members of the music community, a veteran Steinway specialist with over 50 years of experience.
Besides overseeing the direction of "Piano Gallery", Bruce continues to be active as a pianist and composer. A graduate of UC Berkeley, he has lived periodically in Paris, France where he held positions in numerous municipal and private conservatories and schools.
He is currently in the process of preparing many of his compositions for private publication by finepiano.com. Please see below for a list of available scores.
Works for piano:

Etudes-Portraits

Cinq Préludes de Concert
Poème et Finale
Trois Chorals
Three Christmas Pieces
Capriccio
Nocturne
Pastorale
Orientale
Trois Danses
Little Suite
Reminiscences
Elegy
Introduction and Capriccio
for Left Hand
A Partir de Chopin
Six Suites for Piano
Ten Pieces for Children
Three Duets on Happy Birthay
(four hands, one piano)

Works for voice and piano:

Ten French Songs
Four Italian Songs
Three Songs on Indian Love Lyrics
Six Songs on Poems of Hilda White
Six Songs on Poems of Nellie Hill
Who is Sylvia?
The Tale of Tom Kitten
(Voice and Piano)
Trois Chansons de Bienvenue